Bitcoin's Maximum Supply Is Now Well Below 21 Million
This will give even more value to Bitcoin in the future.
When the Bitcoin Blockchain was created in 2008, Satoshi Nakamoto voluntarily set a maximum number of BTC that could be created. This number was arbitrarily set at 21 million. Thus, the number of Bitcoins that can be created through the mining process is limited. In fact, Bitcoin clearly falls into the category of deflationary currencies.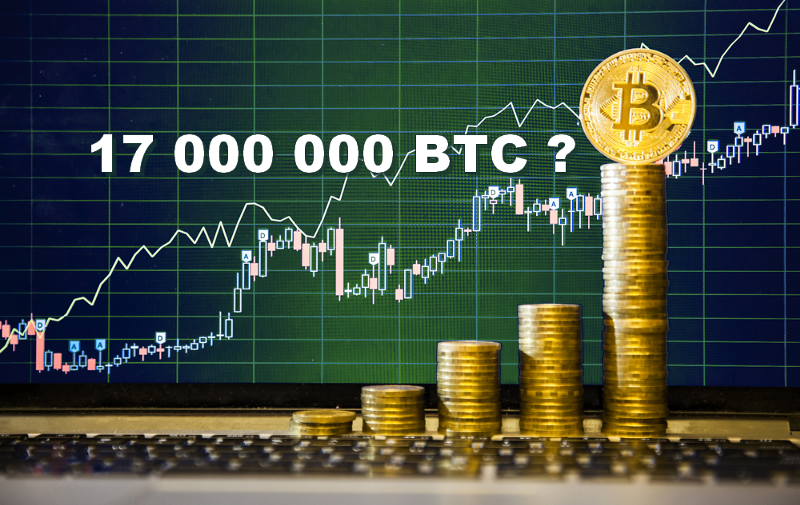 The fact that the number of Bitcoins is limited to 21 million and that the new Bitcoins are only created through mining has naturally brought it closer to gold in the eyes of all. For some, Bitcoin would even be digital gold and its rarity is likely to give it an increasingly strong value in the coming years.
---
Bitcoins' Maximum Number Is Now Far Less Than 21 Million
I am very much in tune with these comparisons and that is why I believe that Bitcoin will become a real store of value in the future. Some elements even reinforce my feeling. I would like to raise the following point:
At the end of 2019, the maximum number of Bitcoins is now far less than 21 million!
This statement may surprise you since we continue to see everywhere that the maximum number of Bitcoins is 21 million.
This is logical in a way, but it is purely theoretical now.
Indeed, according to a study by Chainalysis, which was published at the end of 2017 and relayed at the time by Fortune.com, nearly 3.79 million Bitcoins had already been lost.
As we are at the end of 2019, this figure has most likely exceeded 4 million by now.
Thus, there should only be a maximum of 17 million Bitcoins in circulation when all Bitcoins have been mined!
The study of Chainalysis at the end of 2017 having since been confirmed by that of Unchained Capital published in mid-2018 for example.
---
Less Than 3 Million BTC Still To Be Mined
On October 19, 2019, the Blockchain Bitcoin surpassed the 18 million BTC milestone. In fact, there are only 3 million Bitcoins left that can still be mined in the future.
As expected by Satoshi Nakamoto, the pace of creation will continue to slow down, with the next Bitcoin Halving in May 2020, which will increase the reward for the validation of a block of transactions from 12.5 BTC to 6.25 BTC.
There are still 120 years to go before all Bitcoins have been officially mined. This should take us to 2140.
Currently, 1800 new Bitcoins are being created every day. After the next Halving, this number will decrease to 900.
---
The Rarity Of Bitcoin Will Boost Its Price
From mid-2020 onwards, new Bitcoins will, therefore, become increasingly rare. The remaining share of the cake to be shared will be slightly more than 2.5 million BTC after the next Halving in 2020.
These Bitcoins will, therefore, be much more competitive and, as the law of supply and demand requires, it is likely that the price of Bitcoin will start to soar from that moment on.
The main question that everyone is asking themselves in the context of the long-term future of Bitcoin is as follows:
What is the maximum price that Bitcoin can reach in the coming years?
You can imagine that no one can answer this question with this certainty. Nevertheless, I will give you something that should help you to form an opinion.
---
17 Million Of Bitcoins And Soon 10 Billion Humans On Earth
As I explained to you, the maximum number of Bitcoins that can be put into circulation is now around 17 million.
At the beginning of 2019, there were between 7.6 and 7.7 billion people on Earth. Estimates provided by the United Nations for the coming years show the following figures:
8.5 billion inhabitants in 2030
9.7 billion inhabitants in 2050
11.2 billion inhabitants in 2100
The Earth's population will continue to grow while the number of Bitcoins will remain the same at 17 million at best. Indeed, if some dizzy people continued to lose some, this figure could even be lower…
In 2030, there would theoretically only be a maximum of 0.002 BTC available per inhabitant.
This figure is actually even lower since not all the remaining Bitcoins will have been mined yet. It will indeed be necessary to wait until 2140 for this.
---
Conclusion
The maximum number of Bitcoins is now closer to 17 million than the 21 million initially fixed by Satoshi Nakamoto. The fault lies with users who were too careless at the beginning of the Bitcoin adventure and who lost Bitcoins forever, which would have made their fortune today.
Of the maximum 17 million Bitcoins that will now be available, less than 3 million new ones remain to be mined. From mid-2020 onwards, the creation of new Bitcoins will itself halve after the next Halving.
In the face of this, the world population will continue to grow. Given the current United Nations forecasts, this would give us something like a maximum of 0.002 BTC per capita on Earth.
This gives you an idea of the potential value that Bitcoin could potentially achieve in the future due to its great rarity.
Owning even only 0.1 BTC could well already be synonymous with wealth in the future if Bitcoin experiences the growth to which it is promised.
Now it's up to you to know if you want to let the revolution pass in front and take the risk of not buying 0.1 BTC just in case…