Bitcoin Price Is Stagnating Around $10K Without Taking Off, and That's a Great Thing
Bitcoin price increase needs to be relatively slow to be sustainable.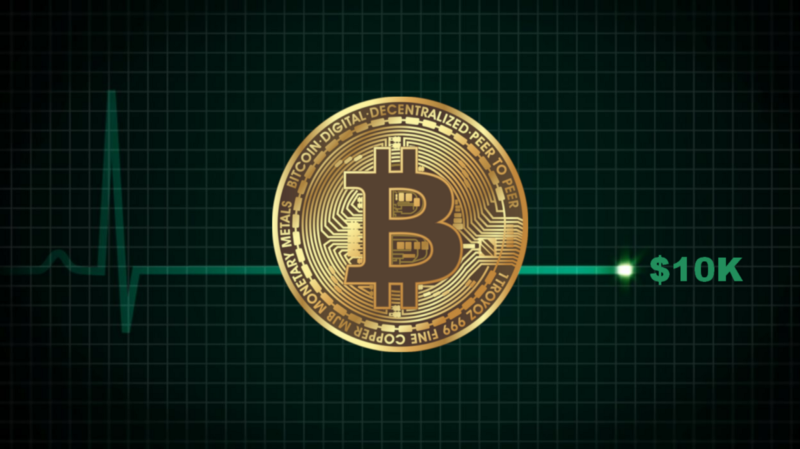 Bitcoin passed the $10K mark again on February 9, 2020. While Bitcoin started the year with a price around $7K, this corresponds to an increase of more than 40% in just 40 days.
In a year of Halving, many people quickly thought that Bitcoin was going to go up to $11K, and then to $15K, before breaking the $20K mark.
Their hopes were quickly dashed when they saw the price of Bitcoin drop back to around $9,700 just 48 hours after the $10K threshold was broken.
And then, the price of Bitcoin soared again to reach its highest level since the beginning of the year at $10,421 on February 13, 2020.
These round trips around the $10K mark therefore question many people.
---
A Wiggle Rather Than a Generalized Runaway Around Bitcoin
From that moment on, I saw more and more questions appear on forums and social networks of people asking if there was still time to buy Bitcoin.
On social networks, I've even seen some people starting to say that they haven't seen the market in this state since 2017.
In order to check this out, I quickly went to Google Trends to check out the worldwide search for the term "Buy Bitcoin":

It is clear that the general public is not so enthusiastic about finding out how to buy Bitcoin.
For the moment…
So I did the same research for the term "Bitcoin" worldwide:

There is no frenzied runaway here. However, there is a slight wiggle in the air.
It seems logical.
We've been talking more and more about Bitcoin since the beginning of the year, and that's a great thing.
First being considered a safe haven in times of crisis as demonstrated during the month of January with the risk of war between the United States and Iran.
A growing number of people are therefore starting to take an interest in Bitcoin.
With the upcoming Halving planned for May 2020, this will intensify over the coming months, which will benefit the price of Bitcoin as demand will increase while supply will decrease.
It will be a simple application of the law of supply and demand.
---
Bitcoin Has Yet to Consolidate This $10K Mark
Despite this growing interest, Bitcoin has yet to consolidate its price above $10K.
This implies that we're still going to get back and forth above and below that $10K threshold.
This is what has just happened today, on February 17, 2020:

In the space of 48 hours, the price of Bitcoin has dropped 7% to around $9,500.
Some people seem disappointed, even surprised.
I guess they thought that once Bitcoin exceeded $10K again, the hard part would be over. Its price could only go up after that.
---
Bitcoin Teaches Us to Be Patient
It was a mistake to think that, and a certain lack of humility. Bitcoin doesn't work that way. It moves at its own pace.
In all the years of its existence, Bitcoin has taught us at least three essential values:
Humility
Perseverance
Patience
These are the essential qualities to have if you really want to join the club of true Bitcoiners.
In the coming days and weeks, Bitcoin is expected to continue stagnating around $10K.
The next big resistance is at $10,550, so this is not surprising if you look at the technical analysis.
---
This Phase of Consolidation Is an Excellent Thing
You have to understand that the fact Bitcoin stays in this zone for some time before its price continues to rise is a great thing.
It is preferable for Bitcoin to increase its price steadily but never excessively.
Since the beginning of the year 2020, that is what has happened, and that is a good thing.
As long as the price of Bitcoin continues to rise like this, it protects Bitcoin from the formation of a bubble around its price that would be identical to the one that formed at the end of 2017.
The result was disastrous at the time, as you remember with a strong bear market that lasted throughout 2018.
This sharp drop at least had the merit of purging the market of people who came simply out of greed, and who did not understand the fundamentals of Bitcoin.
---
A New Opportunity to Buy Bitcoin
Fortunately, the Bitcoin market is much more mature today than it was in 2017.
The strong bull market that will take place in the 18 months following Bitcoin's third Halving will therefore have a much better chance of establishing a sustainable high price for Bitcoin.
Before it gets to that point, you're going to have to be patient once again, and above all believe in Bitcoin.
You should see this relapse to around $9,500 as a new opportunity to accumulate a little more Bitcoin.
Bitcoin will reward you in due course if you have had an unshakeable faith in its revolution.