Bitcoin Was Once Again by Far the Most Popular Digital Currency in 2022.
No suspense in sight for 2023: Bitcoin will remain number one.
With a market share of over 92% worldwide, it is an understatement to say that Google reigns supreme in the world of online search. For many in the general public, the term used is not "searching online," but simply "Googling."
This speaks volumes about the power of Google in the online search industry.
So when you want to know which digital currencies are attracting the most curiosity from the general public, there is only one thing to do: dive into the google trends, the famous search trends that Google posts on a dedicated site.
This gives you a good indication of the popularity of certain searches at a given time and by geographical area.
For the year 2022, it appears unsurprisingly that Bitcoin remains by far the digital currency that attracts the most interest from the general public. This is obvious since Bitcoin is the king of digital currency, but it is something that seems important to remember as the price of Bitcoin has had a more than difficult year in 2022.
But as always, a tough year means key lessons to be learned, as I explain here:
"​A Look Back at a Difficult, but Instructive, Year in 2022 for Bitcoin."​
That being said, Bitcoin attracted 28.41 million monthly Google searches worldwide in 2022. So Bitcoin remains the most popular cryptocurrency worldwide but also in the US, with 4.57 million monthly searches on the US version of Google Search.
It is worth pointing out for those who might have doubted that Bitcoin has held this ranking since its release in 2009. Of course, back then, it was just Bitcoin, so it was easier :). But in reality, even today, you have to understand that there is Bitcoin and the others: Bitcoin != Crypto.
What might surprise some people, however, is that Ethereum does not come in second place, or even on the podium … Surprising when the deployment of Ethereum 2.0 should have attracted more attention and interest from the general public.
In second and third place globally, we find instead "memes" cryptocurrencies, including Dogecoin, founded in 2013 initially as a joke, with 5.9 million average monthly searches in 2022. Elon Musk's unwavering support for Dogecoin helps a lot with its popularity.
But don't be fooled, even the founders of Dogecoin reiterate that their cryptocurrency is nothing more or less than a joke…
The dog-faced cryptocurrency is followed by another "meme coin," Shiba Inu cryptocurrency which reached 4.4 million searches per month in 2022. Shiba Inu has also benefited from Elon Musk's occasional references to it.
The top 10 in this ranking shows some difference in the order of interest in cryptocurrencies between America and the world: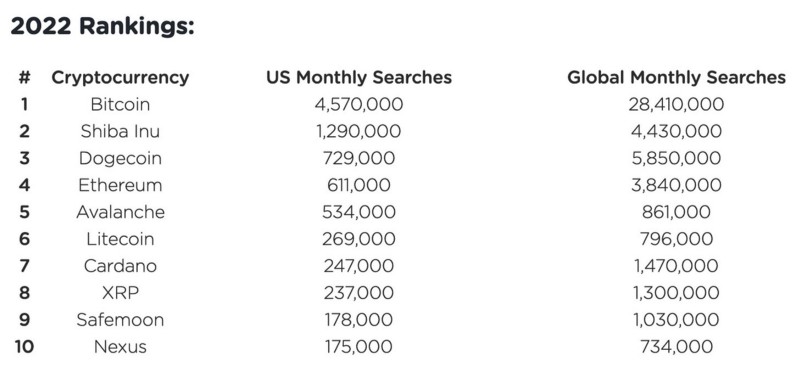 Thus, Cardano is 5th in the world, but "only" 7th in the US. Avalanche, which is 5th in the US, is only 8th in the world. Finally, Litecoin and Ripple's XRP are still in the Top 10.
For 2023, I won't venture to tell you which Sh*tcoins will replace Avalanche, Safemoon, Nexus, and co. It would be far too difficult to predict. However, I can already predict who will still be at the top of the rankings, which gives a good indication of the interest of the general public.
It will be Bitcoin. And to go even further, note that a better presentation of the Top 10 of 2022 could be done like this: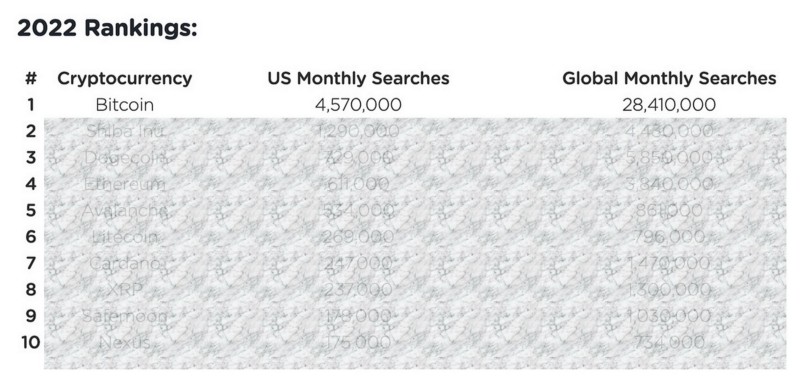 Can't quite see what's behind Bitcoin anymore? Don't bother looking for what's behind it, because it's just noise! The real signal is the Bitcoin revolution, that's the only thing you need to focus on if you are serious about protecting the fruits of your labor.
This is one of the great lessons that 2022 will have taught many people. Let's hope that fewer and fewer people will get lost in the noise!