Bitcoin Has Now Entered in the Positive Feedback Loop That Will Drive Its Price to a New ATH
The question is not if, but when.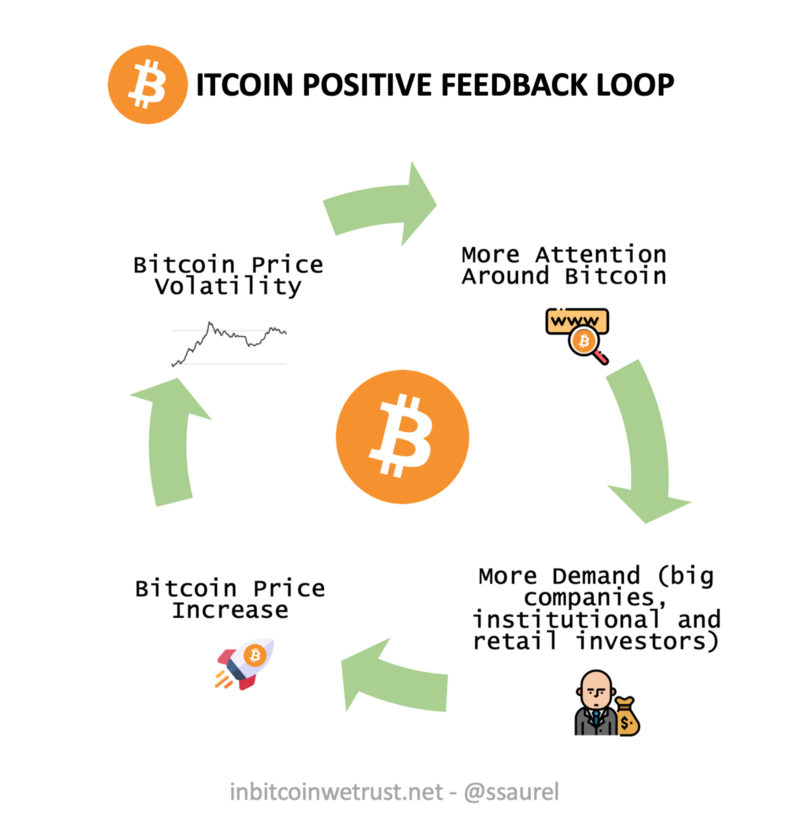 November 2020 is just beginning, and we can look forward to an exceptional month for Bitcoin in October. While the Bitcoin price started the month around $10.5K, it closed the month around $13.8K, an increase of +32%.
Some people seem surprised by this increase in the Bitcoin price. In reality, nothing is surprising in this increase, which is only the result of the consolidation of the fundamentals that we have been witnessing for several months.
We will soon be six months after the third Bitcoin Halving that took place on May 11, 2020. History has taught us that this is precisely when the post-halving Bull Run begins to take shape.
This time seems to be no exception.
---
Being a Bitcoin HODLer becomes essential
The market has entered a phase of accumulation, as demonstrated by various metrics such as the number of Bitcoins that have not been moved for more than a year, or the number of Bitcoins stored on exchange platforms, which has been falling steadily since the beginning of 2020.
A growing number of people are coming to the only valid conclusion about Bitcoin: Bitcoin is a monetary revolution that is set to change the world of the future in terms of money.
Once violently denounced by opponents, Bitcoin's price volatility is now seen for what it is: a feature, not a bug. You can make Bitcoin's volatility your greatest ally as long as you become a Bitcoin HODLer.
This means adopting the best strategy with Bitcoin:
Buy Bitcoin automatically with a Dollar-Cost Averaging (DCA) approach. Many applications exist for this.
Program the automatic sending of these Bitcoins to your hardware wallet using one of the applications you will buy.
HODL Bitcoin no matter what.
Iterate from step 1.
---
The arrival of large companies has allowed the Bitcoin price to enter a positive feedback loop
MicroStrategy, a Nasdaq-listed company, has made Bitcoin its primary treasury reserve asset by adopting this strategy. Following the lead of CEO Michael J. Saylor, MicroStrategy made two massive purchases of BTC in August and September.
At the time of this writing, MicroStrategy owns 38,250 BTC purchased for $425 million, including transaction fees. At the current Bitcoin price, MicroStrategy's investment is nearly $530 million.
MicroStrategy's strategy is brilliant, and more and more companies will follow this approach with Bitcoin in the future. Square also did the same in early October 2020. The Bitcoin rush is starting before our very eyes, and nothing can stop it.
The announcement of PayPal's entry into the Bitcoin world from the beginning of 2021 was the announcement that brought Bitcoin into a positive feedback loop.
---
This positive feedback loop will propel the Bitcoin price to a new ATH
This positive feedback loop will help to increase the Bitcoin price in the coming months to a new All-Time High (ATH). Don't ask me for an exact date, I don't have one. No one can give you an exact one.
The only certainty I can give you is that the new ATH for the Bitcoin price will be reached in the coming months. It is only a matter of time now.
All the positive announcements about Bitcoin are increasing the attention around Bitcoin. More and more people realize that Bitcoin is here to stay. Bitcoin is not that dangerous system reserved for criminals that the powerful people of the current system spend their time denigrating.
With more attention, the demand for Bitcoin is increasing. This is driving not only big companies but also institutional and individual investors to come and buy Bitcoin. One proof of this is the fact that Bitcoin passed the 100 million user mark a few weeks ago.
---
Demand will increase, but the supply of new Bitcoins will be irretrievably reduced over time
Demand is increasing, but the supply of Bitcoin is still limited to 21 million units. Besides, the issue of new Bitcoins will continue to be reduced in the coming years following the monetary policy defined in the Bitcoin source code.
As the law of supply and demand tells us, this will cause the Bitcoin price to rise sharply.
A rise in the Bitcoin price will lead to more volatility with corrections from time to time as we have seen in recent months. This volatility will cause the media to talk more and more about Bitcoin. De facto, we will be back in the positive feedback loop that I just presented to you.
This positive feedback loop will allow the Bitcoin price to rise sharply in the coming months. The goal of a Bitcoin price close to $100K by the end of 2021 remains as relevant as ever.
---
Conclusion
While a logical correction phase will take place over the years 2022 and 2023, you should keep in mind that we will enter a new 4-year cycle starting with the fourth Bitcoin Halving in 2024. With each new cycle, the supply of new Bitcoins will be halved.
All this while the demand for Bitcoin will continue to grow strongly and the Fed will continue to print more and more U.S. dollars out of thin air. Under these conditions, the 10-year price target for Bitcoin is even higher.
If you are a Bitcoin HODLer, you can sleep soundly, your best days are ahead of you. If you are not yet a Bitcoin HODLER, hurry up and educate yourself about Bitcoin so that you don't miss out on a unique opportunity in your life.